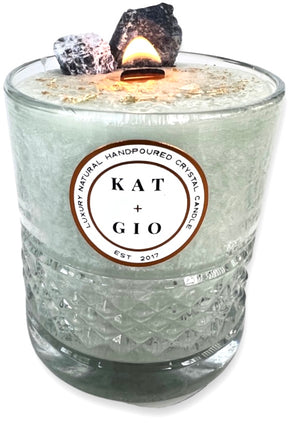 LOGIC + INNER PEACE + POSITIVITY
SODALITE
Sale price Price $46.00 Regular price
LOGIC    INNER PEACE    POSITIVITY 
SENSICAL -Sitting in the veranda of the most charming log cabin, you feel the tranquility that only the Pacific Northwest can imbue you with. The the distinct earthiness of Geranium grounds you in a moment of reflection on your perseverance in the past, while the woody tranquil notes of cedarwood impart to you the stoicism, and enthusiasm you need as you move into the future. Nestled deep in the forest, your intellect has never been more clear. You allow your mind to wonder wherever it may please as the sweet, cooling effect of your Peppermint tea instills logic, inner peace, and positivity.
INHALE  ENJOY  BE WELL
CANDLE PROPERTIES: - SUPERB LUXURY INGREDIENTS  ECO FRIENDLY - NON TOXIC
- Clean Palm Wax
- Pure Essential Oils
- Natural Raw Gemstones
- Organic Crackling Wood Wick
- approx 40 hours burn time
- Upscale packaging measuring at 3.5" x 3.5" x 4" with attractive rose gold foil design 
- 
12
oz / Candle wt. 
740
g 
- 3.5ht x 3.in reusable glass vase
ESSENTIAL OIL FUSION OF 
CEDARWOOD + GERANIUM + PEPPERMINT