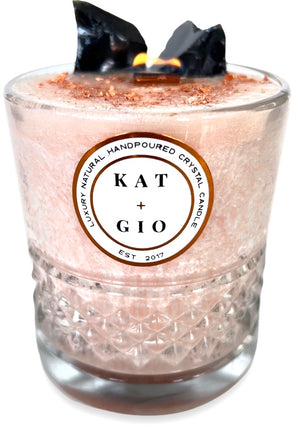 CLEANSING + GROWTH + PURIFYING
BLACK OBSIDIAN
Sale price Price $46.00 Regular price
CLEANSING   GROWTH   PURIFYING
GUARDIAN -Before the big gala, you slip into a steaming hot shower. The sweet zest of Tangerine has you eager, and jubilant for whatever the evening has in store for you. The subtle notes of neroli, cleanse you of your inhibitions, and you ponder all the possibilities for the evening with enthusiasm. New friendships, social growth, maybe even romance could be in store for you.. You slip on your favorite garments, and like a freshly tailored piece of formalwear, the combination of Cinnamon, and Nutmeg is both opulent, and indulgent to the senses. Any angst you may have had for the future has dissipated leaving only pure optimism, and zeal in its path.
INHALE  ENJOY  BE WELL
CANDLE PROPERTIES: - SUPERB LUXURY INGREDIENTS  ECO FRIENDLY - NON TOXIC
- Clean Palm Wax
- Pure Essential Oils
- Natural Raw Gemstones
- Organic Crackling Wood Wick
- approx 40 hours burn time
- Upscale packaging measuring at 3.5" x 3.5" x 4" with attractive rose gold foil design - 12oz / Candle wt. 740g 
- 3.5ht x 3.in reusable glass vase
- 
12
oz / Candle wt. 
740
g 
- 3.5ht x 3.in reusable glass vase
ESSENTIAL OIL FUSION OF 
TANGERINE + NUTMEG + CINNAMON