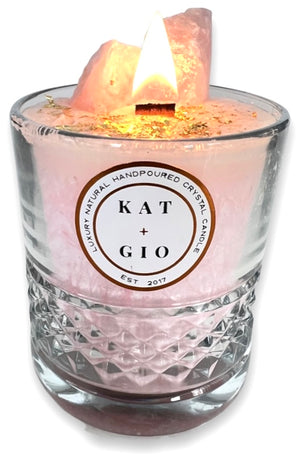 LOVE + COMPASSION + KINDNESS
ROSE QUARTZ
Sale price Price $46.00 Regular price
LOVE   COMPASSION   KINDNESS
DALLIANCE -After a busy, laborious week, you've finally managed to schedule in some you time. You fill a vase with fresh Geranium. The floral scent, with hints of spice is nearly hypnotic, while across the hall you hear the delicate pitter pattering of water, as your bath tub fills. Just before making your way over to immerse yourself in the steaming tub, you fulfill one last important detail of the ritual. You light your favourite incense, and the room engulfs with the intoxicating symphony of Patchouli. Starting with its rich aromatic top note, that gives way for a woody, spicy finish. A tingling sensation washes over you as you submerge yourself, and the sensual, exotic scent of Jasmine reaffirms you of the love, compassion, and kindness that you are worthy of.
INHALE  ENJOY  BE WELL
CANDLE PROPERTIES: - SUPERB LUXURY INGREDIENTS   ECO FRIENDLY - NON TOXIC
- Clean Palm Wax
- Pure Essential Oils
- Natural Raw Gemstones
- Organic Crackling Wood Wick
- approx 40 hours burn time
- Upscale packaging measuring at 3.5" x 3.5" x 4" with attractive rose gold foil design 
- 
12
oz / Candle wt. 
740
g 
- 3.5ht x 3.in reusable glass vase
Essential Oil Fusion of
PATCHOULI  +  JASMINE  +  GERANIUM