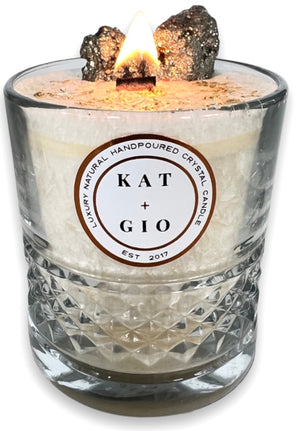 ABUNDANCE + PROTECTION + LUCK
PYRITE
Sale price Price $46.00 Regular price
ABUNDANCE    PROTECTION    GOOD LUCK 
FORTUITY -A gentle, and much welcomed breeze combs through the air on a warm summer day. It carries with it the abundantly complex profile of Ylang Ylang. Bringing hints of custard, and banana at first, but then giving way to green, earthy notes of spice. The vibrant teal pacific ocean in front of you playfully ebbs and flows at your feet, as you lounge in the soft white sand of the atoll you are fortunate enough to call home. You are shaded by dense, and lush vegetation which humbly offer you its protection from the sun, as well as jovial herbal notes of wild Basil to sweeten the deal. You nourish yourself with an overflowing bowl of seasonal fruit, and a tall, crisp glass of water with freshly squeezed Lemon. The taste is distinctively clean, with just the right amount of sour undertones. Your gratitude for natures offering of abundance, protection, and good luck is infinite.
INHALE  ENJOY  BE WELL
CANDLE PROPERTIES: - SUPERB LUXURY INGREDIENTS  ECO FRIENDLY - NON TOXIC
- Clean Palm Wax
- Pure Essential Oils
- Natural Raw Gemstones
- Organic Crackling Wood Wick
- approx 40 hours burn time
- Upscale packaging measuring at 3.5" x 3.5" x 4" with attractive rose gold foil design 
- 
12
oz / Candle wt. 
740
g 
- 3.5ht x 3.in reusable glass vase
ESSENTIAL OIL FUSION OF 
BASIL + YLANG YLANG + LEMON