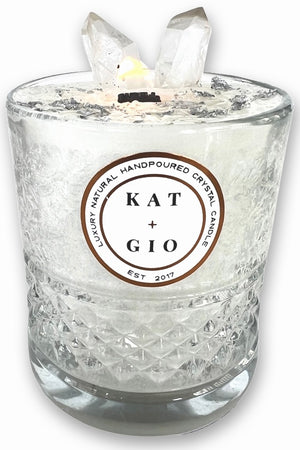 CREATIVITY + ENERGY + CLARITY
CLEAR QUARTZ
Sale price Price $46.00 Regular price
CREATIVITY    ENERGY    CLARITY 
EBULLIENCE -There's something about Paris that stokes your creative flame. Maybe it's the spicy aroma of Cinnamon that waltzes over from the bakery across the street, filling your art loft with its robust energy. Maybe it's the bright aroma of Peppermint, emanating from the fancy box of sweets you picked up from the world renowned chocolatier down the road. Perhaps it's the savory, herbaceous scent of Rosemary that dances in the streets around dinnertime. Either way, your studio is brimming with easels, and palettes. Every stroke of your paintbrush is deliberate, and pristine. Every idea more fruitful than the next. You harness more creativity, energy, and clarity than ever before.
INHALE  ENJOY  BE WELL
CANDLE PROPERTIES: - SUPERB LUXURY INGREDIENTS  ECO FRIENDLY - NON TOXIC
- Clean Palm Wax
- Pure Essential Oils
- Natural Raw Gemstones
- Organic Crackling Wood Wick
- approx 40 hours burn time
- Upscale packaging measuring at 3.5" x 3.5" x 4" with attractive rose gold foil design 
- 
12
oz / Candle wt. 
740
g 
- 3.5ht x 3.in reusable glass vase
Essential Oil Fusion of
PEPPERMINT  +  ROSEMARY  +  CINNAMON