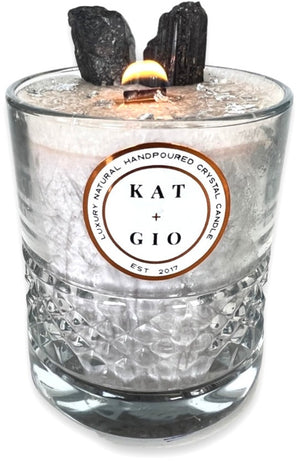 FORTITUDE + PROTECTION + SECURITY
BLACK TOURMALINE
Sale price Price $46.00 Regular price
FORTITUDE    PROTECTION    SECURITY 
RESILIENT -Heavy pillows of snow blanket the town on a brisk winter evening. You seek refuge by the roaring fire rumbling away in your fireplace. The burning logs tenderly fill your home with the woodsy, outdoorsy sent of Cedarwood with undertones of citrus. You nestle yourself in front of the fire with your favorited blanket, and a warm Vanilla latte. The sweet, syrupy olfactory properties of the Vanilla remind you that while the blizzard grows, it is no match to your quiet, and serene abode. You gently place another log into the fire, as to not disrupt its mighty grandeur, and you're met with the reward of a new profile of scents. The earthy, balsamic Frankincense announces its presence with complex mixtures of sweet, and green tones. The aromas bestow you with fortitude, protection and security.
INHALE  ENJOY  BE WELL
CANDLE PROPERTIES: - SUPERB LUXURY INGREDIENTS  ECO FRIENDLY - NON TOXIC
- Clean Palm Wax
- Pure Essential Oils
- Natural Raw Gemstones
- Organic Crackling Wood Wick
- approx 40 hours burn time
- Upscale packaging measuring at 3.5" x 3.5" x 4" with attractive rose gold foil design - 12oz / Candle wt. 740g 
- 3.5ht x 3.in reusable glass vase
- 
12
oz / Candle wt. 
740
g 
- 3.5ht x 3.in reusable glass vase
ESSENTIAL OIL FUSION OF 
CEDARWOOD + FRANKINCENSE + VANILLA