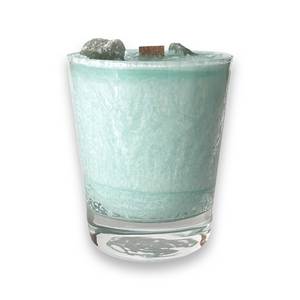 ABUNDANCE + PROSPERITY + LUCK
Aventurine 9oz
Sale price Price $33.00 Regular price
ABUNDANCE    PROSPERITY    LUCK 

OPULENCE -Aventurine Crystal Gemstone Aromatherapy Candle is a luxurious and indulgent addition to your candle collection! This beautiful glass jar is filled with a fragrant blend of essential oils, including Bergamot, Eucalyptus, and Rosemary. The perfect pick-me-up for when you need a little bit of luck in your life, this candle is sure to bring you all the good fortune you desire. Light it up and let the delicious aroma fill your home – it's sure to leave you feeling relaxed, refreshed, and reinvigorated.
CANDLE PROPERTIES: - SUPERB LUXURY INGREDIENTS  ECO FRIENDLY - NON TOXIC
- Clean Palm Wax
- Pure Essential Oils
- Natural Raw Gemstones
- Organic Crackling Wood Wick
- approx 
4
0 hours burn time
- Upscale packaging measuring at 3.5" x 3.5" x 4" with attractive design 
- 
9
oz / Candle wt. 
516
g 
- 3.5ht x 3 in reusable glass vase
Essential Oil Fusion of
BERGAMOT +  EUCALYPTUS  +  ROSEMARY