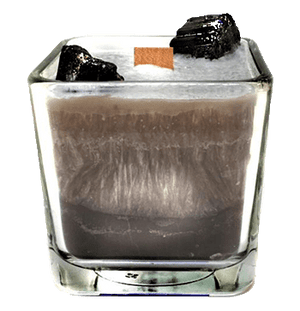 FORTITUDE + PROTECTION + SECURITY
Black Tourmaline 14oz
Sale price Price $42.00 Regular price
FORTITUDE    PROTECTION    SECURITY 
RESILIENT -Black Tourmaline Crystal Gemstone Candle is perfect for those times when you need a little extra protection and support. The essential oil fusion of cedarwood, frankincense, and vanilla is grounding and comforting, while the black tourmaline crystal helps to clear negative energy. Burn this candle when you want to feel secure and powerful, deepening your connection to the physical world.
INHALE  ENJOY  BE WELL
CANDLE PROPERTIES: - SUPERB LUXURY INGREDIENTS  ECO FRIENDLY - NON TOXIC
- Clean Palm Wax
- Pure Essential Oils
- Natural Raw Gemstones
- Organic Crackling Wood Wick
- approx 40 hours burn time
- Upscale packaging measuring at 3.5" x 3.5" x 4" with attractive design 
- 
14
oz / Candle wt. 
754
g 
- 3.5ht x 3.5in x 3,5in reusable glass vase
ESSENTIAL OIL FUSION OF 
CEDARWOOD + FRANKINCENSE + VANILLA