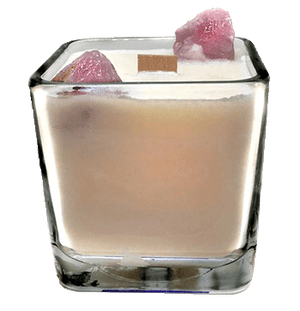 LOVE + COMPASSION + KINDNESS
Rose Quartz 14oz
Sale price Price $42.00 Regular price
LOVE   COMPASSION   KINDNESS
DALLIANCE -made with natural Rose Quartz Crystal gemstone. Rose Quartz is known for its ability to open the heart chakra and promote all forms of love. This makes it the perfect addition to your home, office or anywhere you want to create a loving and inviting atmosphere.

Our DALLIANCE Candle is made with a blend of essential oils including Patchouli, Jasmine and Geranium. These luxurious scents are sure to fill any room with a warm and inviting ambiance. The beautiful glass jar is reusable and makes a great addition to any decor.

So light up our DALLIANCE Candle and enjoy the love-enhancing power of Rose Quartz!
INHALE  ENJOY  BE WELL
CANDLE PROPERTIES: - SUPERB LUXURY INGREDIENTS   ECO FRIENDLY - NON TOXIC
- Clean Palm Wax
- Pure Essential Oils
- Natural Raw Gemstones
- Organic Crackling Wood Wick
- approx 40 hours burn time
- Upscale packaging measuring at 3.5" x 3.5" x 4" with attractive design 
- 
14
oz / Candle wt. 
754
g 
- 3.5ht x 3.5in x 3,5in reusable glass vase
Essential Oil Fusion of
PATCHOULI  +  JASMINE  +  GERANIUM