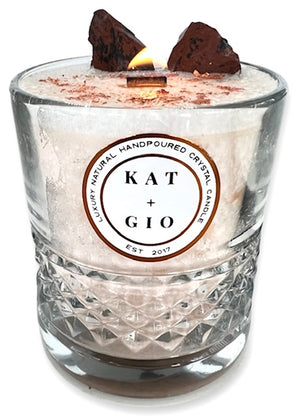 STRENGTH + GROUNDING + PROTECT
MAHOGANY OBSIDIAN
Sale price Price $46.00 Regular price
STRENGTH   GROUNDING   PROTECT

Elutriate -Crystalline flakes of snow tickling your eyelashes as they descend from the azure blue skies over the Canadian Rockies. The sweet, refreshing winds carry notes of Pine with them. Every breath you take incites more strength, and determination in your soul to face any obstacle with a confidence grounded in courage. It's easy to be confident, when you know the robust medicinal properties of Eucalyptus are going to work every time you breath it's sharp, minty flavor. You stay discerning, and level headed when faced with any dilemma, as the simmering, balanced tones of Camphor keep your aura pure, and unbothered.
INHALE  ENJOY  BE WELL
CANDLE PROPERTIES: - SUPERB LUXURY INGREDIENTS  ECO FRIENDLY - NON TOXIC
- Clean Palm Wax
- Pure Essential Oils
- Natural Raw Gemstones
- Organic Crackling Wood Wick
- approx 40 hours burn time
- Upscale packaging measuring at 3.5" x 3.5" x 4" with attractive rose gold foil design 
- 
12
oz / Candle wt. 
740
g 
- 3.5ht x 3.in reusable glass vase
Essential Oil Fusion of
PINE  +  EUCALYPTUS  +  CAMPHOR