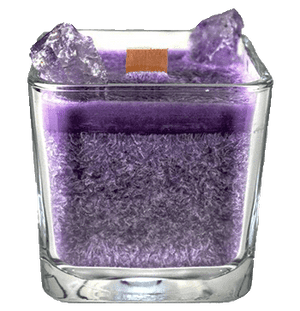 PEACE + STABILITY + CLEANSING
Amethyst 14oz
Sale price Price $42.00 Regular price
PEACE  STABILITY  CLEANSING
SOPORIFIC -Amethyst Crystal Gemstone Aromatherapy Candle is perfect for anyone looking to foster tranquility and spirituality in their lives. The Essential Oil Fusion of PALMAROSA, LAVENDER, and CAMPHOR creates a beautifully scented candle that will help you relax and unwind. AMETHYST is a powerful stone known to have strong cleansing and healing power – so you can feel at peace knowing that your candle is helping to promote well-being.
INHALE  ENJOY  BE WELL
CANDLE PROPERTIES: - SUPERB LUXURY INGREDIENTS  ECO FRIENDLY - NON TOXIC
- Clean Palm Wax
- Pure Essential Oils
- Natural Raw Gemstones
- Organic Crackling Wood Wick
- approx 40 hours burn time
- Upscale packaging measuring at 3.5" x 3.5" x 4" with attractive design 
- 
14
oz / Candle wt. 
754
g 
- 3.5ht x 3.5in x 3,5in reusable glass vase
ESSENTIAL OIL FUSION OF 
PALMAROSA + LAVENDER + CAMPHOR