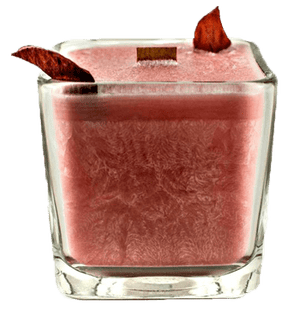 NURTURING + HEALING + SECURITY
Red Jasper 14oz
Sale price Price $32.00 Regular price
NURTURING   HEALING   SECURITY
SANCTUARY -Looking for a way to add some extra relaxation and positive energy into your life? Meet Sanctuary, your new go-to crystal gemstone aromatherapy candle. Made with natural red jasper, this beautiful candle is perfect for anyone who wants to enjoy the benefits of aromatherapy with a little something extra.

Red jasper is known as the nurturing stone and is said to cleanse and stabilize the aura, providing a sense of security. It can also inspire positive attitude and optimism. We've combined this powerful stone with essential oil fusion of clove, fir needle, and nutmeg to create a truly relaxing and uplifting experience.

When you light Sanctuary, you'll instantly feel your stress start to melt away.
INHALE . ENJOY . BE WELL

CANDLE PROPERTIES: - SUPERB LUXURY INGREDIENTS  ECO FRIENDLY NON TOXIC
- Clean Palm Wax
- Pure Essential Oils
- Natural Raw Gemstones
- Organic Crackling Wood Wick
- approx 40 hours burn time
- Upscale packaging measuring at 3.5" x 3.5" x 4" with attractive design 
- 14oz / Candle wt. 754g 
- 3.5ht x 3.5in x 3,5in reusable glass vase
Essential Oil Fusion of
CLOVE + FIR NEEDLE + NUTMEG