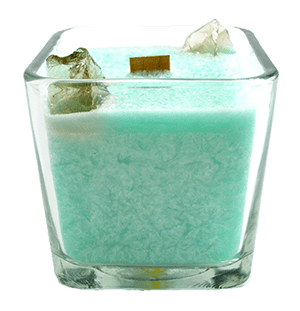 STABALIZING + GROUNDING + CLEANSE
Smoky Quartz 14oz
Sale price Price $42.00 Regular price
STABILIZING    GROUNDING    CLEANSE
LUSTRATE -Looking to smudge your space and cleanse your crystals? Meet your new favorite ally: the  14oz Smoky Quartz Crystal Gemstone Aromatherapy Candle. Made with a powerful essential oil fusion of lemongrass, niaouli, and lime, this candle is perfect for clearing negative energy and promoting balance and harmony. Plus, the smokey quartz crystal gemstone included in every candle helps to ground and connect you to the earth. So light up, relax, and let the LUSTRATE Candle do its magic.
INHALE  ENJOY  BE WELL
CANDLE PROPERTIES: - SUPERB LUXURY INGREDIENTS   ECO FRIENDLY - NON TOXIC
- Clean Palm Wax
- Pure Essential Oils
- Natural Raw Gemstones
- Organic Crackling Wood Wick
- approx 40 hours burn time
- Upscale packaging measuring at 3.5" x 3.5" x 4" with attractive design 
- 
14
oz / Candle wt. 
754
g 
- 3.5ht x 3.5in x 3,5in reusable glass vase
ESSENTIAL OIL FUSION OF 
LEMONGRASS + NIAOULI+ LIME